Love for the Motherland in Overcoming COVID-19… Agreement Ceremony for Chairman Cho Younggeun's 260 Thousand Dollar Online Donation to Korea University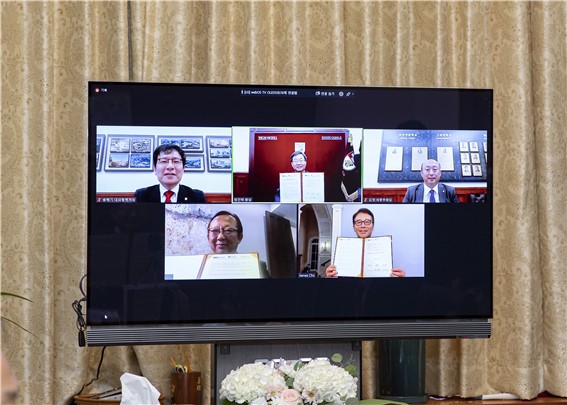 On September 28th, the Joh Foundation, Korea University, and KAYAC (Korean American Youth Assistance Coalition) participated in the 'Korea University Sejong Social Contribution Fund' and an agreement ceremony was held at Korea University's Seoul Campus. The agreement ceremony was done online through Zoom due to COIVD-19. Participants in this ceremony included the chairman of Joh Foundation, Cho Younggeun, and president of the Root Education Foundation, Cho Jinhaeng, as donors, and on the school side, President Jeong Jintaek, Vice President Kim Young, and director of the office of Development & External Affairs, Song Hyeokgi.
Chairman Cho agreed to donate 260 thousand dollars to KAYAC from 'Joh Foundation,' a non-profit corporation, which was founded for the purpose of community service. Starting from 2021, donations of 26 thousand dollars will be given yearly for at total of ten years adding up to 260 thousand dollars for 'Motherland Education' that provides a chance for Korean American students to visit their homeland. Chairman Cho said, "I hope that the motherland visitation program continues to make forward progress, and I hope that students can visit Korea and learn and experience the pride of their nation." President Cho of KAYAC said, "The foundation has been participating in donation events for 20 years, and the donation by chairman Cho will provide a steppingstone to conduct the motherland visitation business consistently with Korea University." The donation made by Chairman Cho is going to be used for the Motherland Education Foundation, which is run together with Korea University, and to revitalize the event after having been affected by COVID-19.
President Jeong said, "I am happy that Korea University is running this program to provide education for Korean students abroad that creates awareness of their roots and their identity. The biggest obstacle to running this program was finance, but Chairman Cho has donated a sizeable amount to help us overcome this obstacle. With this, we will try our best to educate Korean students living abroad about their roots and instill in them a feeling of pride that will live on throughout their lives."
Vice-president Kim said, "I think there is a great meaning in giving Korean students living abroad chances to visit and learn about Korea. Since sustaining this program is important, I think that reminding our members at the school of how important this program is and how much tradition it has is important."
Korea University Sejong Campus has run the Motherland Education program with KAYAC since 2009. The program and the visitation experience underlying it provide an opportunity for Korean students living abroad to grow into international talents with a national and pioneering spirit.
In other news, the Motherland Education program that was scheduled for this July was cancelled due to COVID-19, but once the pandemic situation improves, it is scheduled to start again next year.
KU Sejong Student PR Team, KUS-ON
Translator: Kang Minho
Editor: Conrad Brubacher