Sejong AI Complex Education Center to be Built in Korea University Sejong Campus to Cultivate AI-SW Talent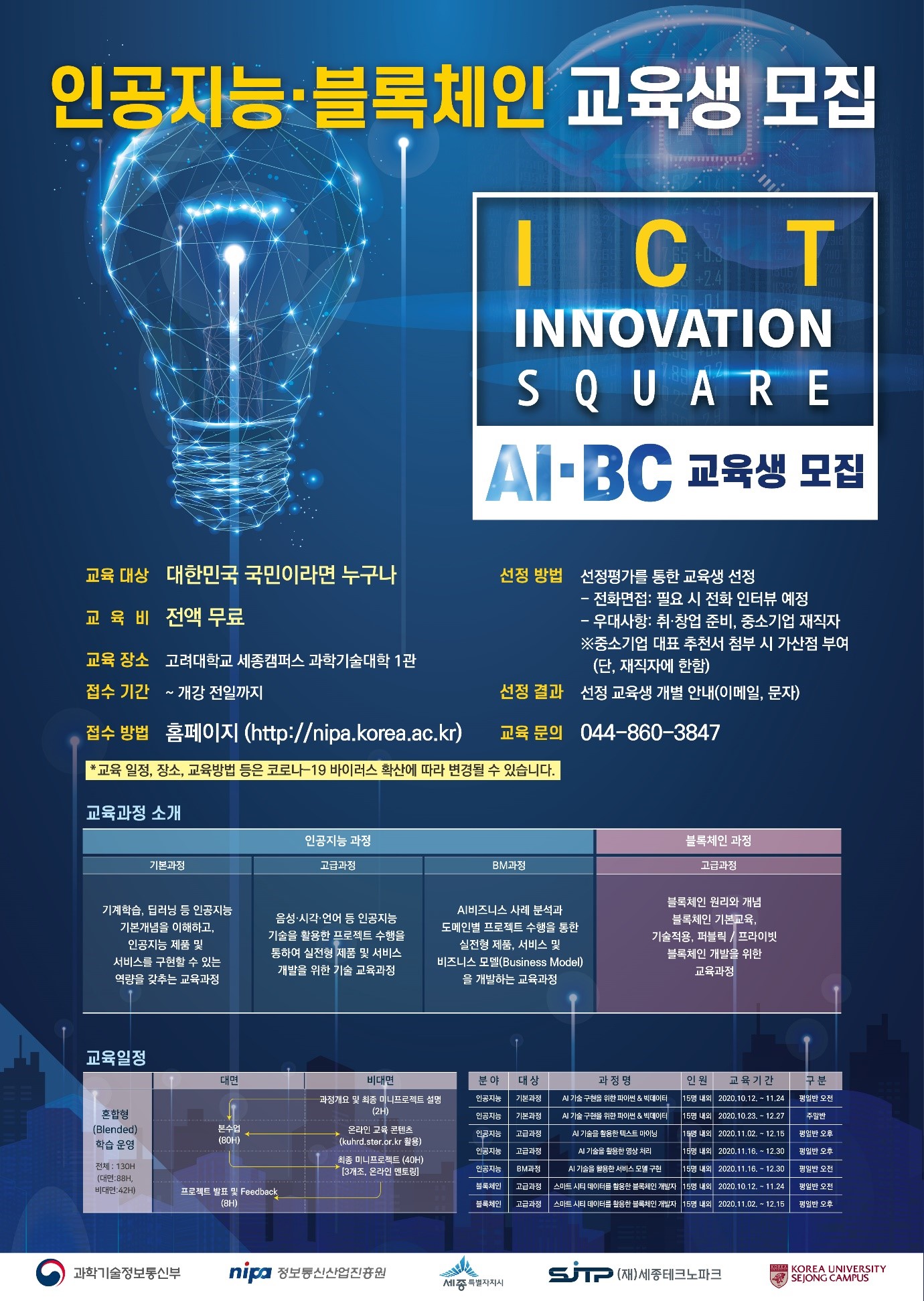 Sejong City has established a consortium with Daejeon, the province of Chungnam, and Chungbuk City, and been selected for the 'Region ICT Innovation Square Building' business contest, which is part of the Korean New Deal Core Project of cultivating talents in the area of digital innovation. Due to this selection, Sejong City will invest 2.36 billion won until 2023 to increase growth in major talents in the fields of Artificial Intelligence (AI), Blockchain, and Software (SW).
According to the proposal given by the Chungcheong Region's consortium, the Sejong AI Complex Education Center will be built in Korea University Sejong Campus at which education in AI and Blockchain will be conducted with the use of a high-performance Graphic Processor Unit (GPU).
From September 28th to November 15th, Korea University Sejong Campus is recruiting students for a course in the fields of AI and Blockchain. This course consists of 88 hours of coursework and 42 hours online for a total of 130 hours, and comprises five total learning stages: Python & Big Data using AI technology, text mining using AI technology, processing videos using AI technology, actualizing service models using AI technology, and developing blockchain using Smart City Data. In addition, students that complete the course will be provided with professional consulting and conferences regarding employment and startups while running a competitive exhibition in the field of AI. For more information visit the school's ICT Innovation Square homepage: (http://nipa.korea.ac.kr).
Sejong City announced that construction of the AI Complex Education Center will be completed by September and full operations will begin in October. More information on business operations will be posted on Sejong City's city hall homepage: (www.sejong.go.kr).
KU Sejong Student PR Team, KUS-ON
Translator: Kang Minho
Editor: Conrad Brubacher