Korea University Class of '92 Alumni Association: A Visiting Event to Commemorate the 30th Anniversary of their Admission
Korea University Sejong Campus held a celebratory event to commemorate the 30th anniversary of the admission of Korea University's class of '92 alumni association.
The event was attended by 22 alumni members, including Park Jin chul, chairman of the preparatory committee, Kim Young wook, vice president of Korea University, Oh Kwang wook, head of the Admissions and Public Relations Department, Director Kimg Sang ho of Admissions and Public Relations, and Jang Yoon seok, the director of the Public Relations & Fund Management Team.
The class of '92 alumni association watched a Sejong Campus promotional video and school introduction materials at Yujung Hall, and moved to the front of the "30th Anniversary Stone Bench" which sits next to the Sejong Library.
We moved to Classroom SEMO, which was newly created this year as a state-of-the-art discussion space, and after hearing about the background and purpose of the space, moved to the sports complex. Afterwards, the group moved through the Accelerator and ICT Building, the Research Experiment Building of the College of Pharmacy, the Research and Business Cooperation Building, and Nong Shim Hall, took a commemorative photo at the new front gate, and wrapped up the campus tour at the Culture and Sports Building.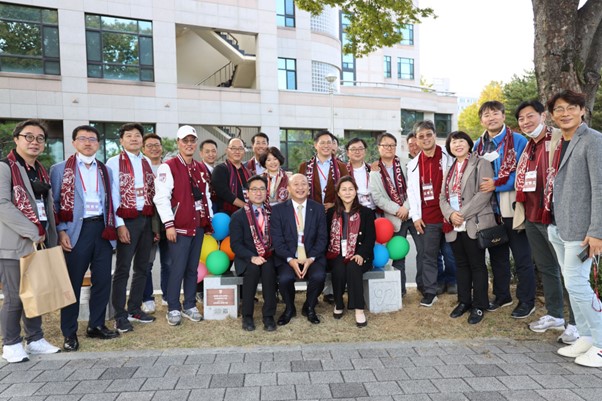 Kim Young, vice president of Korea University Sejong Campus, said, "I expect that the Sejong Campus, which has developed rapidly over the past five years, will become a truly prestigious university, and top 10 nationwide in the future. I hope that this will tradition will carry on and remain as a meaningful event and that we will continue to cultivate talented people."
Park Jin cheol, chairman of the Class of '92 Alumni Association Preparatory Committee, said "The image of our beautiful alma mater that has developed has deeply resonated with me. I hope that the following event will become a meaningful symbol of the history of Korea University, which goes beyond the graduates of '92 and '93."
Class of '92 Alumni Association member Jeong Hee ra said, "At Korea University Sejong Campus, where the memories of our 20s are fused, we hope that our current juniors in their 20s will pursue their studies with passion. I am grateful to Korea University for giving me a precious time here."
Korea University Sejong Campus, established in 1982 with a tradition going back 42 years, is a central university for cultivating creative convergence talents in Sejong City, and is growing into the core of university education with the goal of entering the top 100 universities by 2025.
KU Sejong Student PR Team, KUS-ON
Reporter: Kang Joohee
Photographer: Kim Minsung
Translator: Chae Yeon Kim
Editor: Conrad Brubacher